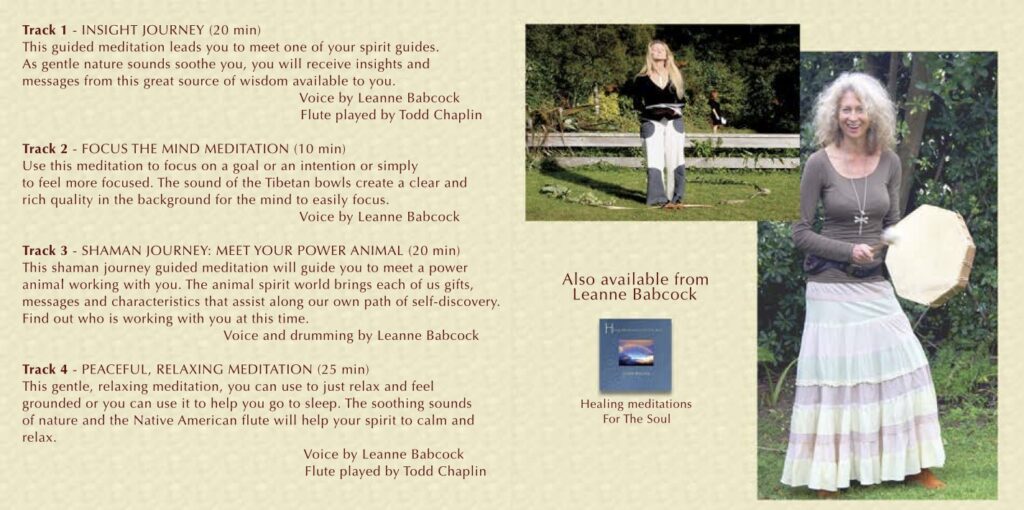 Musicians – Todd Chaplin, Leanne Babcock
Recorded by – Jared Keesing
Track 1 – INSIGHT JOURNEY (20 min)
This guided meditation leads you to meet one of your spirit guides. As gentle nature sounds soothe you, you will receive insights and messages from this great source of wisdom available to you.
Voice by Leanne Babcock
Flute played by Todd Chaplin
Track 2 – FOCUS THE MIND MEDITATION (10 min)
Use this meditation to focus on a goal or an intention or simply to feel more focused. The sound of the Tibetan bowls create a clear and rich quality in the background for the mind to easily focus.
Voice by Leanne Babcock
Track 3 – SHAMAN JOURNEY: MEET YOUR POWER ANIMAL (20 min)
This shaman journey guided meditation will guide you to meet a power animal working with you. The animal spirit world bring each of us gifts, messages and characteristics that assist along our own path of self-discovery. Find out who is working with you at this time.
Voice and drumming by Leanne Babcock
Track 4 – PEACEFUL, RELAXING MEDITATION (25 min)
This gentle, relaxing meditation, you can use to just relax and feel grounded, or you can use it to help you go to sleep. The soothing sounds of nature and the Native American flute will help your spirit to calm and relax.
Voice by Leanne Babcock
Flute played by Todd Chaplin
---
---